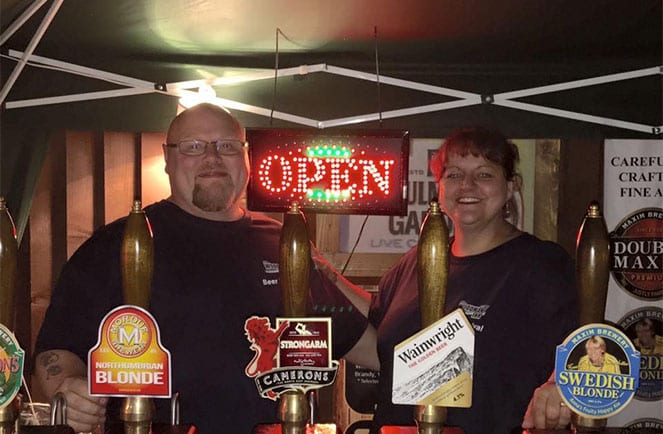 Back By Popular Demand – Durham Pub's 'Beer and Bangers' Real Ale Festival Begins This Week!
The Woodman Inn, Durham, confirms dates for popular beer festival which hosted over 500 people from across the region last year
Well known locally as 'One of the best beer gardens in Durham', the pub will be using its Bulmers sponsored Cider garden to host the event
The Woodman Inn in Durham, is once again hosting its popular beer festival this week, championing real ale in the pub's fantastic garden with an opportunity for locals to sample over 30 different varieties of real ale and cider.
Building on the success of 2016 when over an estimated 500 locals from across the area attended the festival, licensees Sean and Jane Quilty are bringing the Summer event back to the Woodman's 'Bulmer's Cider Garden', by popular demand.
The festival is free to attend and runs over four days from Friday 14th – Monday 17th July 2017.
This year the pub is hoping to attract even more customers with new ale varieties, folk music, karaoke, disco and the Rock band 'Tainted Rose'.
Speciality sausages will also be added to the menu this year. These are made by local company Tyne Valley Quality Meats of Wylam.
'Beer and Bangers 2017' will also offer exclusive Durham CAMRA ½ pint glasses for £1 to take home, as well as specially printed T-shirts as mementoes of the occasion which will be available to buy.
The festival has been sponsored by a number of local and nationwide businesses including the UK's leading community pub operator behind the Woodman, Admiral Taverns as well as Durham CAMRA, Maxim Brewery (Houghton Le Spring) & Marston's Brewery.
Commenting on the festival, Licensee for the Woodman Inn, Sean Quilty said:
"We are very excited to be bringing the festival back for a second year running. Our 'Bulmers cider garden' is one of the best in Durham and it means we can host brilliant community events, giving locals the chance to sample an incredible range of great tasting ales.
For our 2017 festival, we are looking forward to even bigger and better things, with more ales to sample, some tasty sausages to accompany them and a chance to experience Mrs Q's garden in all its beautiful glory!'
Commenting on the project, BDM for the area Stephen Birkett from Admiral Taverns said:
'The Woodman Inn is a real credit to Sean and his team's hard work. Their passion and commitment is impressive and with their fantastic beer garden ready for another cracking Summer, we are delighted to be sponsoring the 'Beer and Bangers' festival once again.