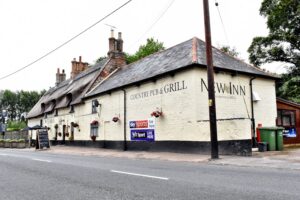 After a successful year at the helm of popular community pub, the New Inn, situated in the picturesque village of Hockwold cum Wilton near Thetford, licensees Patricia and Jeff Fry will be holding a party to celebrate on Saturday, the 27th April and is inviting everyone to join in with the fun! The anniversary party will encourage locals and those who have supported the team to toast the pub's success with an evening of live music from local artist Mr E, who covers a huge range of music styles from Nessun Dorma through to R'n'B.
Patricia and Jeff were thrilled to join the team as the new licensees at this historic pub, which first opened in 1768. The team were also pleased to receive an investment of £30,000 from leading community pub operator, Admiral Taverns. Since their arrival, the pub has gone from strength to strength and she has worked hard to encourage a strong community spirit at the pub with a huge range of food and drink offers and regular events such as live music and karaoke.
The pair have revamped the pub garden just in time for lazy summer afternoons in the sun, and cooler evenings with perfect for relaxing with friends and family. The pub broadcasts both the Sky Sports, BT Sport channels throughout the week and other popular live sporting events.
With a focus on delivering high-quality food, the New Inn has a weekly roster of great-value menus such as vegan food nights, where which the vegan shepherd's pie is often the star of the show. On Tuesdays, you can grab a delicious burger and any pint for just £11 or a fabulous two-course lunch for £8.95, which comes with free tea or coffee, available between Tuesday – Saturday every week from 12pm – 3pm.
However, if you're feeling like a more indulgent meal to bring in the weekend, you can treat yourself to two juicy steaks and a bottle of wine for £25! Additionally, a delicious children's menu is on offer for little ones, with tasty and simple dishes available such as turkey dinosaurs and chicken teddies. Kids can also get their desserts and drinks free!
The New Inn is also building its reputation for its wide drink offering, particularly with fans of real ales. With brands such as nearby Woodford Breweries, as well as regular guest ales on the bar, there's always something new to sample.
Commentating on the anniversary party and her tenancy, licensee Patricia Fry said:
"It's been a fantastic year at the New Inn working with my team and I can't wait to celebrate and say thanks to everyone who has supported us so far. We're always working hard to offer great food, drink and events at the pub, and we've seen great success through our efforts. I look forward to toasting our success with a glass of bubbly!"
Commentating on the Patricia's first anniversary, Business Development Manager at Admiral Taverns, Jean-Paul Russek said:
"Patricia and Jeff have done a phenomenal job since taking over the pub and long may their success continue. The team deserve to pop open the champagne and celebrate their progress so far, as they've worked hard to develop a unique food and drink offer that's clearly delivering results. Congratulations to Patricia, Jeff and their team!"