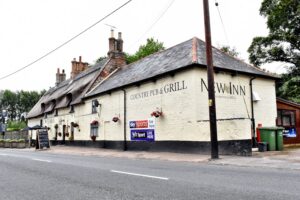 Popular Thetford pub the New Inn, situated in the picturesque village of Hockwold cum Wilton is celebrating the arrival of new licensee Patricia Fry, who recently took over this historic, thatched-roof pub which originally opened in 1768.
This traditional and cosy pub has benefitted from a £30,000 investment from the UK's leading community pub operator, Admiral Taverns. As winter starts to draw in, customers will be able to relax over a pint in front of the pub's welcoming, newly installed, log fire. Real Ale fans won't be disappointed with the chance to choose from popular brands such as Adnams Southwold and weekly guest ales as well as a newly extended range of beers and spirits.
Patricia and her team are launching an improved traditional, home-cooked menu, prepared on site by Patricia herself. There will be a range of 'pub classic' dishes available such as fish and chips and an extensive variety of steaks, as well as children's, vegetarian and vegan menus. Diners can enjoy the peaceful surroundings of the pub's conservatory dining area or hide away in one of the many snug rooms. A takeaway menu is also available for pizzas and fish and chips orders.
In the run-up to Christmas, the New Inn will be holding a number of exciting events to kick off the festive season. On the 3rd November, the pub will host bonfire night with fireworks, delicious food and live music from local singer Dan Star.
Bookings are quickly filling up for Patricia's delicious home-cooked Christmas Dinner, with Christmas Day bookings already sold out. Local customers are encouraged to book early for the season to avoid missing out!
Commentating on the New Inn, licensee Patricia Fry said:
"The New Inn is a lovely, historic pub and my team have worked incredibly hard to develop and improve the experience we can offer our customers. Our home cooked menu is proving incredibly popular and I'm thrilled to hear the positive feedback from our customers. We've planned a great array of autumn events to bring families and friends together and we're looking forward to an exciting build-up to Christmas!"
Commentating on the new licensee, Business Development Manager at Admiral Taverns, Jean-Paul Russek said:
"I'm impressed with the impact that Patricia and her team have had on the New Inn since taking over this summer. Through her hard work and dedication, she is turning the pub into a wonderful space for locals to have a drink or a meal but most importantly, a great time. I'm excited to see how the pub will flourish over the coming months."