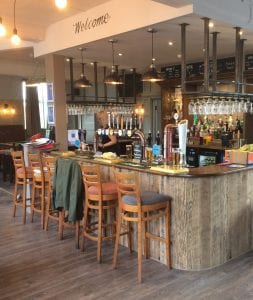 The Cricketers, a local community pub in the heart of Chessington has reopened last week following a £120,000 investment from leading community pub company, Admiral Taverns.
Licensee Diana Cook, who runs the pub alongside partner Tony, first discovered the venue when she worked as a barmaid. One shift was all it took to ensure she never left! After becoming the bar manager in 2016 she decided to take on the pub full time, taking over as licensee in 2017.
The transformational refurbishment will see a complete internal and external overhaul with a view to turning the pub into a family friendly premium location, with a superb offering for the local community. As well as an internal refurbishment, the team have revitalised the beer garden with a smart new seating area ready to make the most of the summer evenings.
The pub opened with a soft launch for friends and family followed by an official party on Saturday evening where local rock band 'Crash N Burn' entertained the guests.
When Tony and Diana took over at The Cricketers the couple were quick to establish a new Cask Ale offering and are looking to increase their range following the refurbishment.  They've successfully doubled the number of premium largers available and wines and spirits are to become a much larger part of their offer, with a new house wine list soon to be launched.
Commenting on the reopening of the pub, licensee Diana Cook said: "The Cricketers is a well-known pub with locals who have been drinking here for over 30 years. Tony and I are determined to re-establish the pub as a real asset for Chessington and the refurbishment will definitely help support that vision. We have big plans for the pub and want to build on the entertainment currently available, with pool teams, more live music and quiz nights to come."
Commenting on the refurbishment, Admiral Taverns' Business Development Manager Nick Lawson said:
"Tony and Diana have a wonderful story at The Cricketers and we're delighted they have been able to take on the pub full time. The refurbishment has given the pub a real lift and will be a fantastic community asset for the locals. Their vision for the pub should see it become a true centre for the town and we wish Diana and Tony all the best for the future."