Hexham pub supports local public service workers with 'Christmas in January' for those who missed out
17th December 2018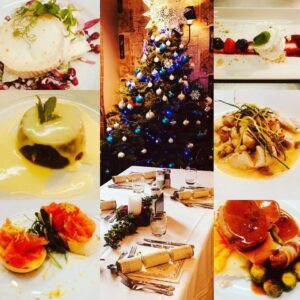 Licensee at the County Hotel in Hexham, Fiona Beck is passionate about giving everyone a chance to enjoy a delicious Christmas meal with friends, family and colleagues. Having worked in the pub industry for a number of years, she is aware how difficult it can be for workers from the public, hospitality and retail sectors to organise parties around busy seasonal schedules and unsocial shift patterns.
Keen to make sure all her customers have the chance to have a great Christmas celebration, Fiona has launched an extended Christmas menu, 'Christmas in January' at the County Hotel, a popular community pub in Hexham. The menu is running from early December until the 13th January, giving those who struggle to find time more dates to book Christmas parties outside the peak season.
The pub's team have set up a dedicated separate area at the pub for parties which will remain festive and jolly once the Christmas decorations start to come down elsewhere.
Those looking for a delicious Christmas feast will be spoilt for choice at the County Hotel, with prices of the menu starting at £16.95 for two courses or £19.95 for three.
The Christmas menu has a wide range of gluten-free and vegetarian options, as well as traditional dishes such as delicious Roast Turkey with all the trimmings as well as the classic Christmas pudding.
Unique dessert highlights include the Deconstructed White Chocolate and Raspberry Cheesecake and an indulgent After Eight Mint Sundae.
Licensee at the County Hotel, Fiona Beck commented:
"At the County Hotel, our team is passionate about catering for everyone in our local community and ensuring that everyone has a relaxing Christmas. Having those extra few weeks to provide a delicious Christmas feast to our customers who have to work during the busy festive holidays means that they don't miss out on those important celebratory moments with their colleagues, family or loved ones."
"We're incredibly excited to deliver this extended period of Christmas joy!"
Business Development Manager for Admiral Taverns Steve Birkett said: "Christmas is the time of the year that brings everyone together but it's important to remember that across many industries, people will be working through the festive period whilst many of us get to put our feet up and relax.  I think its testament to Fiona's community spirit that she is extending her Christmas celebrations. It's a lovely initiative and great example of the important role pubs can play at Christmas time in the community."