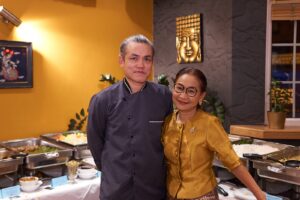 The Wychbury Inn, a local community pub owned by Admiral Taverns in the market town of Stourbridge has re-opened with the arrival of experienced licensees Kitisart and Sarisa Tangsakul. The licensees are hoping to turn the pub into a Thai sensation, introducing a delicious Thai menu and an exciting new look after a £40k refurbishment.
The pub will be celebrating its official re-opening on 25 November with live music, and samples from the new menu as well as samples from their bar menu. The pub's kitchen will be led by an experienced Thai chef Mr Anusit Sohin who's looking to develop a reputation for delicious authentic Thai food. The licensees have also bought in an experienced team to provide first class service to their local customers.
Experienced licensee Kitisart brings a wealth of experience to the pub after running his own restaurant in Bath, as well as managing another venue in Bristol. After teaming up with experienced head Chef Anusit to create a delicious menu, the pub has a winning formula to entice locals in.
The pub boasts a spectacular garden on site, and with the licensees keen to provide entertainment for all, there will be a chance for the whole family to get involved as the pub hosts charity events and exclusive Thai cooking demonstrations.
The popular pub is offering extended opening hours, with a lunch service between 12pm and 3pm, re-opening at 5pm until late to ensure the locals have every opportunity to taste their authentic Thai cuisine.
Commenting on taking over the pub, Kitisart said: "My wife and I are both incredibly excited to be taking on this fantastic pub in such an amazing community. As soon as I found this pub, I saw there was an opportunity to provide the community with something unique and different, and we wanted to develop an offer that appealed to all ages. We'd like to thank the local residents for their support already and we look forward to a great time ahead."
Commenting on the Licensees, Admiral's Business Development Manager, John Lobley said: "Kitisart and Sarisa have created a unique offering for the community, that is backed up with outstanding talent to provide the best Thai food in town. After working in the hospitality industry for 10 years, Kitisart is the ideal candidate to take this pub to the next level and provide a real community asset to the town, and I would highly recommend anyone in the area to head down and try their delicious food!