Admiral Taverns Pub of the Year!
Licensee Kyle Jamieson from the Nauticus was delighted to pick up the Admiral Taverns Pub of the Year award last night on behalf of the team at the Nauticus at the Great British Pub Awards in London.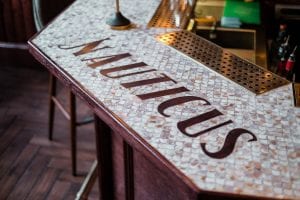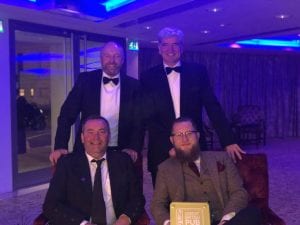 Kyle took on the Nauticus in Edinburgh in summer 2018 alongside his business partners Iain McPherson and Sam Chapman with leading pub company Admiral Taverns and have totally reformed the pub. Following a £150,000 capex investment, they transformed the pub into a cool and quirky venue which is constantly busy and loved by the locals.
The pub champions local producers of both food and drink in the area and takes its inspiration from Leith's trading ­heritage as a key port. Elements of the spice trade, the gin craze, wine and sherry importation and the more recent whisky boom are found throughout the pub and the Nauticus has sourced almost 90 per cent of its menus from Scottish-made or Scottish-owned brands including Cross Brew ­coffee liqueur, made in Edinburgh, and Electric Spirit Co gin from Leith.
Commenting on the victory, licensees Kyle, Iain and Sam said: "We're delighted to have won this category at the Great British Pub Awards. It's a fantastic way to recognise the efforts of all of the team at the Nauticus who work so hard to make the pub a fantastic place for our locals. It's a brilliant team to be a part of and we're excited for the future!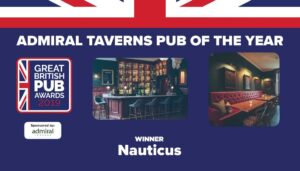 Admiral Taverns Business Development Manager, David Balmanno added: "Iain, Sam  and Kyle are very deserving winners of this award and I'm thrilled for their team and the pub. They have done a fantastic job over the past 18 months and have really put the Nauticus at the heart of the local community. For anyone in the area, I'd thoroughly recommend a visit!