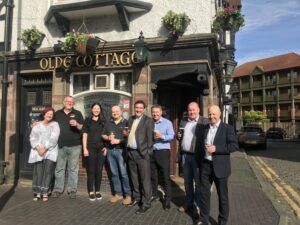 Local community pub, Ye Olde Cottage in Chester toasted the nation's annual beer day on Friday 15th June, with a special visit from local MP, Chris Matheson.
Matheson joined the family-run team at this popular local to mark Beer Day Britain, the UK's annual national beer day which celebrates and honors British Beer, the country's unique brewing scene and its longstanding heritage.
Beer Day Britain was launched in 2015 by award winning beer sommelier, Jane Peyton and is supported by all major organisations in the beer industry including Britain's Beer Alliance, The Society of Independent Brewers, The British Beer & Pub Association and the Campaign for Real Ale. Its date, the 15th June, is significant. On the same day in 1215 the Magna Carta was signed, with clause 35 in the great charter stating; 'let there be throughout our kingdom a single measure for wine and a single measure for ale'. Pubs up and down the country have been marking the day in their own unique ways, providing customers with the perfect excuse to kick start a celebratory 'Father's Day' weekend.
In support of the day, Ye Olde Cottage held an evening of celebrations, showcasing special offers on its signature range of both real and cask ales. The pub has recently been awarded CAMRA's 'Pub of The Year' award for the Chester and South Clwyd region, celebrating the key role it plays in community life.
Licensees Trevor and Jean Summerhill have been in the pub for 17 years and have revolutionised the pub's cask ale offering. Starting with just one pump, the pub now has four cask ale pumps with regularly rotating local ales on offer. Supporting Trevor and Jean is their Granddaughter Kyler Webb, who has played a key role in the smooth running of the pub and ensuring the beer served is at its best.
Ye Olde Cottage also boasts an established and busy entertainment programme offering something for everyone in the area. Darts and pool games are regular fixtures along with weekly charitable quiz nights. The pub also plays host to the local bagatelle league, a game which dates back to the 1700s.
Licensees Trevor and Jean Summerhill said: "Here at Ye Olde Cottage, celebrating beer is something we like to do all year round, but it's great to be part of the nationwide event that pays tribute to the country's beer heritage.
"We have worked hard to keep Ye Olde Cottage at the center of our local community and we are honored that Chris Matheson MP has been able to join us tonight to celebrate with us and raise a glass to say 'Cheers To Beer'!"
Neil Rhymes, Regional Operations Director For The North at Admiral Taverns said: "Ye Olde Cottage is a fantastic pub and a credit to the hard work of Trevor, Jean and their team.
"Across our 850 strong pub estate we work with countless hardworking and dedicated licensees, running great community pubs like Ye Olde Cottage. It's fantastic to have Chris Matheson's support on this significant but celebratory day for the British Beer Industry, honoring its heritage and celebrating its future."