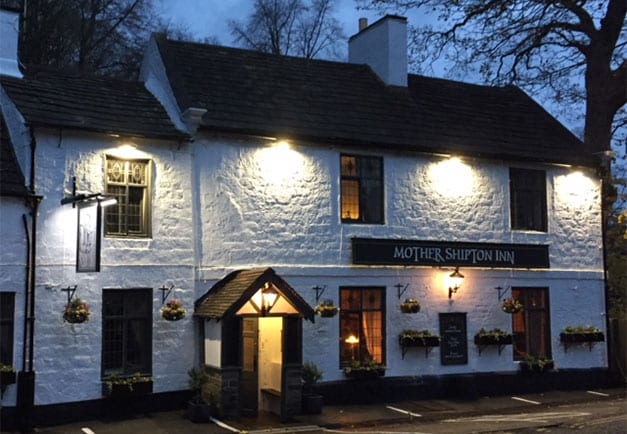 The Mother Shipton Inn, a traditional English Inn nestled away by the River Nidd close to the famous Mother Shipton Cave, where an old woman famously predicted the fate of rulers during her lifetime as well as the defeat of the Spanish Armada, will reopen this week following an investment of over £200,000 from leading community pub company Admiral Taverns.
Having undergone a transformational refurbishment, the pub will reopen its doors on Thursday 23rd November, under new licensees Sam Small and Tony Robb, who took over the pub in February. Over the course of the opening evening, the team will be showcasing the pubs newly developed food offer, giving guests the chance to sample canape tasters for every dish on the menu.
Experienced licensees, Sam and Tony have run local pubs for many years. Looking for a new challenge they were quick to spot the potential of the Mother Shipton Inn which is ideally located, close to the tourist destination of Mother Shipton's Cave and the picturesque River Nidd. The duo have already been awarded gold certificates in two categories for the Knaresborough in Bloom Competitions for the pubs beautiful beer garden.
The couple have revitalised the pubs interior, creating a warm, cosy atmosphere and will be reopening the function room for locals to use. They have developed the fantastic food offer by introducing food themed nights such as a steak and jazz evenings. In addition to this the pub has launched a new drinks menu with cask ales, a new wine list and a specialty gin bar.
Commenting on the reopening, licensee Sam Small said:
"The Mother Shipton Inn is steeped in history and it's important to us that this is honored. We have loved the opportunity to improve the pub and our menus have gone down well within the community – we're already fully booked for Christmas day! We can't wait for everyone to see the pubs transformation for themselves and our team are raring to go ahead of the busy festive season."
Gary Stafford, Business Development Manager for West and North Yorkshire for Admiral Taverns said:
"In Sam and Tony, we have a very experienced and dedicated team who have had a very clear vision for the pub from the beginning. We have been delighted to support them in bringing the pub to life and putting their own individual stamp on what is a fantastic pub business.
"The transformation is really impressive and on behalf of the team at Admiral, I would like to congratulate Sam and Tony and their team and wish them all the best for the grand opening night."
The Mother Shipton Inn, re-opens on Thursday 23rd November 2017 at 5pm.