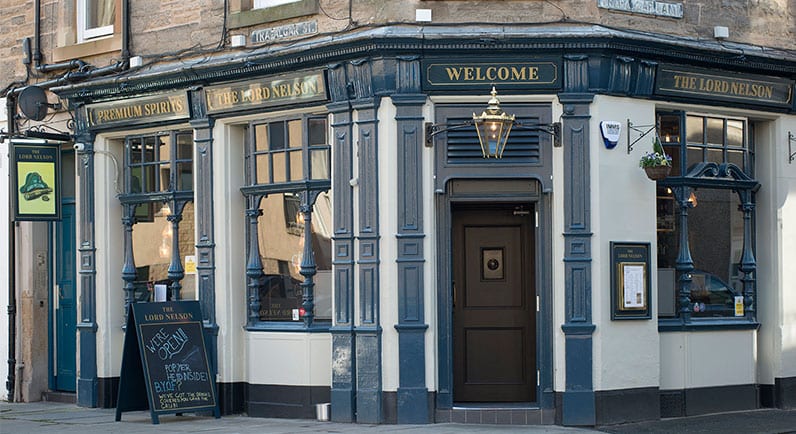 A local community pub will officially reopen this week following a significant investment from leading community Pub company Admiral Taverns. The Lord Nelson, on Trafalgar Street, Leith has reopened its doors and will hold its official launch evening on Saturday 30th September from 2pm with local musicians playing.
Local licensee Scott Farquhar took over The Lord Nelson this Summer, determined to re-establish the pub as a community hub in Leith. Pub Company partner, Admiral Taverns, has worked closely with Scott and his team, investing £99,000 to transform the pub interior, providing a fantastic and welcoming environment for regular locals and new customers.
The pub will officially reopen this weekend, boasting a new entertainment programme including regular quiz nights. Scott and his team will also be introducing an exciting new gin range and championing traditional Scottish beers, with an extensive draft beer range and newly launched cask ale offering.
Commenting on the opening of the Lord Nelson, licensee Scott Farquhar said:
"Having run a number of pubs in the area over the course of my career I am passionate about the close-knit community that we have here in Leith.
I want The Lord Nelson to not only be a great and thriving local pub, but a real hub where all ages can gather together and be guaranteed a great social experience, just a short walk from their doorstep.
Through this significant investment with Admiral Taverns, we have transformed the pub and I'm looking forward to celebrating the relaunch of The Lord Nelson this weekend, welcoming back our regulars and hopefully some new faces!"
Commenting on the investment, David Balmanno, Business Development Manager for Admiral Taverns said:
"At Admiral we are passionate about empowering our licensees to run their own pub business in their own way. Scott's enthusiasm, creative approach and dedication is very inspiring and we have been delighted to have been able to support him to realise his vision.
It's great to see the stamp he has put on The Lord Nelson, firmly reinstating this pub as a great asset for the local community of Leith and we wish both him and his team every success for the future."
The Lord Nelson, Leith will re-open from 2pm on Saturday 30th September.