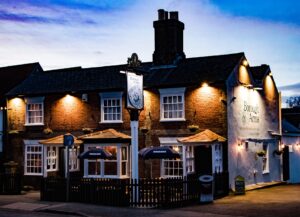 The Borough Arms, an 18th century Posting House in the heart of the popular town of Lymington reopened last week following a £320,000 investment by leading community pub company Admiral Taverns.
The extensive refurbishment has bought to life the vision that local experienced licensee team Debbie and Carl Milward have dreamed of for the pub since they first took it over in late 2017.
Keen to build on the pub's growing popularity and develop The Borough Arms into a true social hub for the local community, the Millwards and Admiral Taverns have transformed the pub's interior and exterior, whilst keeping the design traditional and true to the pub's heritage.
Key to the refurbishment has been the development of the pub's brand-new kitchen which has enabled experienced chef Debbie to launch the Borough Arms' fabulous new food menu, which draws on locally sourced produce and features her signature homemade sauces. Food is now served daily, with the menu crafted around delicious home cooked classics such as homemade pies, fish and chips, homemade lasagne, mushroom stroganoff and burgers with vegetarian options and gluten free needs all catered for. Specials include freshly caught seabass, lamb shanks and Debbie's nachos which are considered to be some of the best in Hampshire.
But fans of the Boroughs' popular carvery won't be disappointed. Whilst the full menu is now served daily an extended carvery menu is still available on Wednesdays and Sundays with delicious starters and tempting deserts also on offer. The pub's focus on fostering a strong community following has also meant that it priorities a special offer to senior citizens in the area on a Wednesday with full carvery menu available for under £8.00.
Whilst Debbie leads in the kitchen alongside chef team Paul and Elaine, husband Carl brings his skills to the fore front of house, earning the Borough a growing and well-deserved reputation as a warm and welcoming family friendly pub for all ages. An extensive bar menu offers a great range of cask and craft ales, a brand-new wine menu and premium spirits with locally sourced Beachcomber gin included in a rotation of gin cocktails. The pub is already well known for its excellent range and condition of real ales and is looking to obtain their Cask Marque Accreditation, as re-establishing its presence in the Good Beer Guide.
The new entertainment programe will certainly keep locals coming back for more with a range of acoustic nights, themed food nights and live music performances already planned. With a wall of instruments to pick from, there's no reason not to join in the fun.
To kick off the celebrations, last weekend saw a host of local VIPs join the pub for the grand opening with local band 'Loose Chippings' entertaining the guests whilst a charity event gave the community a chance to support local worthy causes and sample the pubs delicious menu.
Commenting on the launch weekend and the pub, licensee Debbie Millward said:
"We're delighted to have taken on the Borough Arms which looks fantastic following the refurbishment. The pub's unique character shines through and we are determined it will stay at the heart of the community in Lymington. We've always felt the pub has huge potential and it's brilliant to have the opportunity to turn our vision into reality.  We'd like to thank our local residents as well as Anna and her team at Admiral Taverns for all their help. The local residents were integral in deciding how the pub should evolve and we hope they enjoy all it has to offer for many years to come."
Commentating on the refurbishment, Senior Business Development Manager at Admiral Taverns, Anna Clissold said:
"Carl and Debbie have done a fantastic job at the Borough Arms and have turned the pub into a lovely cosy family friendly local. They have a very strong vision for the pub and have turned it back into a real asset for the community, one which people will be proud to come back to time and time again and bring their friends. We wish Carl and Debbie all the best for the future and I would highly recommend paying them a visit."