Local pub toasts new look with sparkling £71,000 investment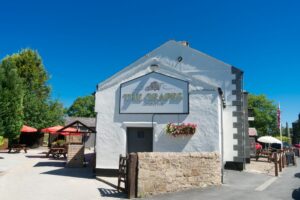 Grapes Inn, Preston is reopening this week following a £71,000 investment from leading community pub company Admiral Taverns which has seen the pub undergo a transformational refurbishment. Admiral are hoping to bring it back as the beating heart of village life.
The historic pub first opened in the 18th century as a coaching inn in the village of Goosnargh. The re-opening on the 27th June will allow customers and locals to get a first glimpse at the pub's refreshed interior and exterior, including a beautiful garden just in time for summer! On their VIP night, guests will be greeted with a free drink on arrival and will have a chance to sample a range of traditional dishes which will be featured on the new menu including pork pies. They will also have a bespoke range of specialty cask ales and spirits available to try on the night.
Highly-experienced multi-site operators James and Anne Waddington have managed Grapes Inn for six years, and together run 50 pubs in the UK. The inn has a stellar reputation for top-quality food which is locally sourced and cooked from fresh. Must-try local meats include poultry from Johnson & Swarbrick in Goosnargh and Anderton's finest steak. They also offer an ever-changing 'specials menu' to entice their customers.
To Freshen up this historic pub, understated colours and rich textiles have been brought in to complement the rustic elegance with traditional flagged floors, rustic beams, and a roaring fire, perfect for getting cosy during the winter with a pint. The new look is elegant but welcoming to all who pass through, whether tourists or beloved regulars.
Commentating on the reopening, James Waddington, multi-operator at Grapes Inn said:
"Grapes Inn is a well-loved pub at the heart of the Goosnargh community. We're so pleased to see the transformation whilst retaining its traditional and local feel. The refurbishment has been a fantastic opportunity to give the interior and exterior a refresh, especially with our lovely new garden this summer. I'm really looking forward to the opening night to show off this pub at its best."
Commentating on Grapes Inn, Sally Sheil, Business Development Manager for Lancashire said:
"We have been delighted to support James and Anne with this investment. They are extremely experienced multi-site operators in the industry and have shown impressive drive and ambition in revamping this unique pub.
"Grapes Inn looks fantastic and I'm excited to support them on the launch night!"