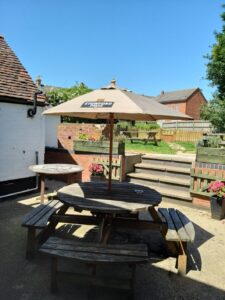 The Golden Cross, a family-friendly and dog-friendly village pub in Harvington, Worcestershire is celebrating the arrival of two experienced licensees, having recently signed a five-year agreement with Admiral Taverns. Experienced licensees Adrian and Sarah Jones have worked in the pub industry for more than 15 years and are excited to be bringing their knowledge and enthusiasm to this popular local.
Since their arrival the couple, who have been together for 19 years, have worked hard to develop a high-quality food menu and host a great range of crowd-pulling events throughout the week.
The licensees are just as well-known for their incredible roster of community events, such as their regular live music nights featuring local artists such as Roland Jones, former lead guitarist for rock  artist Michael Schenker in the 1980s. A local to the area, he even played on the pub's opening night. The pub recently hosted a Rod Stewart tribute act which went down a storm with the locals and they plan to host karaoke sessions throughout the summer.
Sarah, a keen cook, has launched regular food specials nights, showcasing a range of delicious cuisines such as Mexican and Greek, giving locals the perfect opportunity to try varied and unique dishes. Having Mauritian heritage, Sarah is well-known for her authentic Mauritian-style curries which are always a sell-out!
The Golden Cross also has a wide range of traditional pub classics such as homemade burgers, pies and a good selection of gluten-free, vegetarian and vegan options catering for all dietary requirements.
The bar has a selection of real ales and cider, as well as a wide choice of lagers. There is also a large wine menu with three variations of red, rosé and white which includes pinot noir and Malbec. To keep drivers and the children happy, there is also a great range of soft drinks.
Keen to cater to sports fans, the pub also plans to launch their own local darts team and hold their first charity event in September, which will feature English professional darts player Kevin Painter. It's recommended to book your tickets soon as the event is already booking up fast!
Commenting on their tenancy, licensee Adrian Jones said:
"Sarah and I are incredibly excited to be  taking on the Golden Cross and we're proud that our pub is already making a mark on the Harvington community. We are passionate about hosting exciting events that will encourage the locals to regularly engage with our business. Sarah has worked hard to create a delicious and unique food menu that is encouraging our customers to try new things and expand their horizons. We look forward to the summer and the opportunity to continue building relationships with the Harvington village."
Commenting on Adrian and Sarah's performance at the Golden Cross, Business Development Manager at Admiral Taverns, Rachael Dixon said:
"I am blown away by the impact that Adrian and Sarah have already made on the locals since joining the pub. They have hit the ground running since the start of their tenancy, and their focus on delivering high-quality food and hosting unique events is helping them to build an incredible reputation within the community as the perfect social hub. I'm excited to see how the pub flourishes over the next few months!"