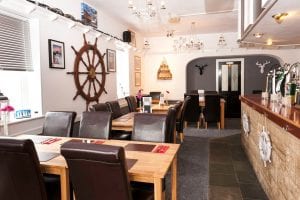 It's a double crown for the Eight Kings!
The Eight Kings, Portland, scoops double award at the Weymouth and Portland Chamber of Commerce Awards (WPCC)
Pub is crowned the "Most Welcoming Reception" and the "Overall Winner" at prestigious black-tie ceremony
The Eight Kings, a popular community pub in Portland, is celebrating after being crowned the overall winner of the Weymouth and Portland Chamber of Commerce Awards, beating 137 other businesses to first place.
The pub also scooped a second award on the night for the most welcoming reception given at a local venue, with finalists for the category being visited by mystery shoppers.
Licensee Kirsi Tamlin was presented with the awards in a black-tie ceremony at Weymouth College. She took over the Eight Kings in April 2016 as her first pub and restaurant business.
Drawing on her previous experience in the restaurant trade, Kirsi has revolutionised the pub's food offer introducing a nautical inspired menu as a nod to the area's heritage, along with themed food events including steak nights and curry evenings.
Daily specials include freshly caught sea food, a grill menu and a variety of English pub classics. Kirsi has also worked hard to ensure that the delicious menu is complemented with a great drinks range with cask ales, craft beers, a wine bar and a speciality gin list.
Commentating on the launch, licensee of the Eight Kings, Kirsi Tamlin, said:
"We're thrilled to have been named the winner of the WPCC award as we've always strived hard to provide an excellent customer service here at the Eight Kings. The award has been lovely recognition for the business – we've seen an increase in wedding enquiries and we are already nearly fully booked for Christmas, which is fantastic.
"We wouldn't have been able to get to where we are today without the support of our local customers and we'd like to thank everyone who's helped us along the way."
Commentating on the award, Business Development Manager at Admiral Taverns, Edwin Pope said:
"Kirsi is a force to be reckoned with. Since taking on the pub her passion and energy has seen it transform into a thriving business. The delicious food menu is really starting to make a name for itself and their constant fundraising efforts and events calendar have helped to put the pub on the map. It's a fantastic achievement to have won both these awards and they are very well deserved by Kirsi."