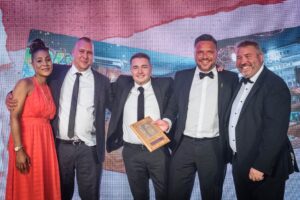 Local Stourbridge pub, the Cock'n'Bull in the West Midlands was among the winners last week at the Great British Pub Awards in London after winning the award for Admiral Taverns' Pub of the Year 2018.
The hotly contested annual awards celebrate the best pubs in the industry from 'the best food pub', to 'the best family pub' and the overall 'best UK pub'.
This year the Pub Company Finalist for Admiral Taverns was awarded to the successful multi operator Cock'n'Bull.co in Stourbridge. The West Midlands pub is well-known for its 'filthy burgers, kick-ass chicken and liquor', continuously delivering great food and drink which keeps customers coming back for more.
The Cock'n'Bull beat of stiff competition from some fantastic finalists including The Albert (Hebden Bridge), The Colston Arms (Bristol), The Dusty Miller (Brighouse) and The Park Hotel (Blackburn).
Congratulations to all!