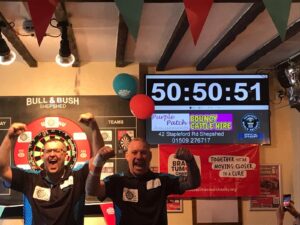 Taking place at the Bull and Bush in Shepshed, Loughborough, at 9am on Wednesday 3rd July, the pub hosted a world record-breaking attempt for the longest single darts match. Two of the pubs darts players, Kev Bryan and landlord James Hoult, known as Nez to the locals, threw their darts for over 2 days in an attempt to beat the current world record and fundraise for their two chosen charities, the Brain Cancer Charity and Mondo GNA01, a charity that works to raise awareness of the gene mutation GNA01 and fund research.
Both players are regulars in the pub's darts league and Kev has been involved in a record-breaking attempt before – reaching an impressive 48 hours in total, but it will be James's first time. This stint will see the players add another 12 hours to Bryan's previous personal best.
As well as hosting the record breaking attempt, the pub also supported the fundraising with a raffle, featuring incredible prizes such as a signed darts shirt from England's World Cup representative Michael Smith, AKA Bully Boy, a round of golf for 4 at the Marriott Hotel, a Bosch Drill, bottles of Jack Daniels and vouchers to use in local restaurants. There were more than 20 prizes up for grabs!
Commenting on the World Record Attempt at the Bull and Bush, licensees Laura and James Hoult said:
"We are incredibly excited to be hosting this Guinness World Record attempt and so proud of our darts player Kev for taking on the challenge with James. Both charities have an incredible cause and we're so excited for the day. The pub will be open from 9am and we'd encourage everyone to come down and support the players. Playing a darts match for 60 hours will be no mean feat but we're confident the guys will be able to hit that Bullseye!"
Commenting on the Bull and Bush, Steve Brighty, Business Development Manager at Admiral Taverns said:
"The team at the Bull and Bush has worked really hard to bring this event to life and it's fantastic to see the pub showing support for its players and their chosen charities. They are pulling out all the stops to raise money for a great cause with a really impressive challenge ahead! We're crossing our fingers for Wednesday the 3rd and make sure to come and support the team if you're in the area."