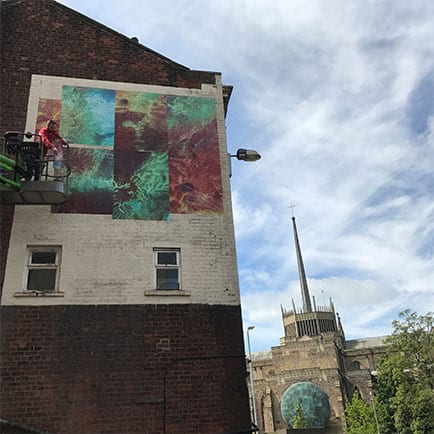 Local Blackburn pub, The Adelphi, takes centre stage to #MakeBlackburnBeautiful
Internationally renowned artists will be creating artworks on blank walls to inspire and engage the local community
The Adelphi pub in Blackburn, is championing art in the local community by offering one of the pubs' outside walls as a blank canvas for internationally renowned artist, Andy Faraday.
Run by licensees, Steve and Diane Whittle, The Adelphi pub is participating in the Blackburn Open Walls project 2017 #MakeBlackburnBeautiful, which will run for the 3rd – 8th July 2017.
Now in its second year, the project focuses on bringing communities together in conversation and creative inspiration, through Street Art. Murals will be created on empty walls across the town by nine internationally renowned artists, producing nine separate pieces of public artwork.
Blackburn Open Walls has seen the currently plain back wall at The Adelphi pub transformed into a beautiful artwork. The initiative has been sponsored by a number of local and nationwide businesses' including the UK's leading community pub operator behind the Adelphi, Admiral Taverns as well as well-known brands Crown and Nationwide Platforms.
The design of the Adelphi artwork remained top secret until it was unveiled, but Hayley Welsh, founder and Creative Director behind Blackburn Open Walls had revealed that the artwork would be created by artist Andy Faraday, who would be creating a giant polaroid on the wall.
The Blackburn Open Walls project 2017 closed with a free walking tour around the town to view the art, followed by a celebratory party.
Commenting on the project, Licensee for the Adelphi, Steve Whittle said:
"We are very excited to be part of #MakeBlackburnBeautiful and can't wait to see Andy Faraday work his magic.
The Blackburn Open Walls project is a great event, drawing the local community together and we look forward to welcoming the people of Blackburn down to the Adelphi to see our new artwork for themselves."
Commenting on the project, BDM for the area John York from Admiral Taverns said:
'The Adelphi is a great pub, with great potential and having recently re-opened we are delighted that the pub has had the opportunity to become part of such an important local project.
Admiral are delighted to be sponsoring Blackburn Open Walls 2017 and look forward to seeing blank canvases across the town, bought to life through this inspiring community initiative.'