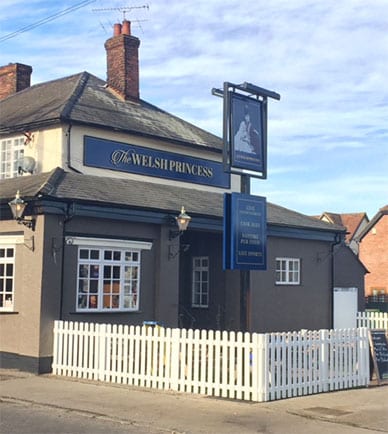 The Welsh Princess, a family run pub in the heart of the Essex Village Rayne, will reopen this week following over a £100,000 investment from leading community pub company Admiral Taverns.
The pub has undergone a 'royal makeover' following three weeks of extensive refurbishment and will reopen its doors on Saturday evening under licensees Shaun Pickton and Dawn Harris. Local to the area and both regular visitors to the pub in previous years, the couple took over the pub eight months ago with a clear ambition to develop The Welsh Princess into a great social hub for the village.
With the support of Admiral Taverns, Shaun and Dawn have revitalized the pubs interior and created a bespoke beer garden area, with seating for up to 60 people providing the perfect sun trap in the warmer Summer months.
A newly launched drinks range will introduce four cask ales as well as a growing gin collection. The pub's expanded food offer will include a breakfast/brunch menu as well as a delicious light bites lunch menu. Entertainment fit for a Princess will offer everything from live Sky/BT sport to 80s themed disco nights, karaoke, poker nights, WI evenings and even a monthly cheese club.
Commenting, licensee Shaun Pickton said:
"The Welsh Princess has always been a very special pub for us and having been regulars ourselves we are delighted to have the opportunity to take on and develop this business. Both Dawn and I have a very clear vision for the pub and with the refurbishment now complete we are looking forward to firmly establishing The Welsh Princess as a thriving and buzzing community hub for the locals. With the newly launched food offer, expanded drinks range, lovely beer garden and a broad range of entertainments and events, there really will be something for everyone."
Jean-Paul Russek, Business Development Manager for East Anglia for Admiral Taverns said:
"Shaun and Dawn are fantastic, motivated licensees who have been supporters of the pub for a long time and it is great to see it taken over by true locals. We have been delighted to help them in bringing the pub to life and putting their own individual stamp on what is a great pub business.
"The transformation is really impressive and on behalf of Admiral, I would like to congratulate Shaun and Dawn and their team and wish them all the best for the opening night."
The Welsh Princess, Rayne, re-opens on Saturday 25th November 2017 at 12 noon