Stork Hotel
Birkenhead, CH41 6JN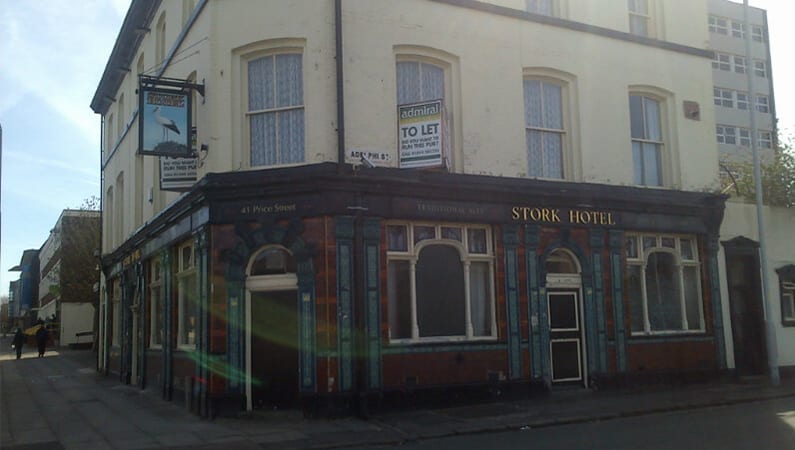 OR CALL 01244 321 171 FOR MORE DETAILS
The Stork Hotel is a large detached three story building situated a short walk away from Birkenhead town centre and benefits from offices and amenities being close by. There is plenty of local housing in the area and the pub is only a short distance to the local train station and bus routes into Liverpool City centre.
Pub Layout
The Stork is in excellent condition with oak wood and tiled floors acting as a real feature. The pub has a central bar servicing all areas of the pub. The pool and dart board are situated in the bar and these are often used by local teams. The lounge allows customers to stand comfortably around the bar or to enjoy the seating areas near to the open fireplace. There is also a separate room to the rear that is used to serve food as the kitchen adjoins this room, this area can also be used for small private functions and meetings. There is an additional 'card' room which has previously been used for small meetings and society gatherings. Outside, there is a large beer garden with a purpose built smoking shelter as well as a paved outside area with bench seating. This is an ideal space to host outdoor events, such as BBQs, beer festivals and garden parties in the warmer summer months.
The pub currently specialises in a wide variety of cask ales and homemade food. It has a core customer base including mid-week sports teams. It is often visted by local historians who are keen to admire the Edwardian tile-work throughout the property.
Private Accommodation
The private accommodation is split over two floors. On the first floor there is a bathroom with two lounge areas, a kitchen and a store room. On the second floor there are four bedrooms, an office, bathroom and storage room. This accommodation benefits from having a separate entrance to the pub.
Annual Rent: £16,000
Security Deposit: £3,000
Working Capital: £2,000
Stock: £2,000
Fixtures and Fittings: £15,000
(funding options available for the right licensee)
Tie:        All drinks categories are tied.
For fully funded licensees on long term agreements, we offer free-of-tie options for certain drinks categories in exchange for an annual fee.
We are looking for a licensee who can drive this business onto the next level. The existing licensee has built up a good reputation and the ideal licensee will have the skills and attributes necessary to continue to grow the business through excellent retail standards and a passion for community pubs.